Skip to Content
All States Rack: Pallet Jacks, Stackers, Lift Tables, Tilters & Pallet Levelers
Lifting pallets to move, load or unload in spaces where a forklift is not safe or convenient can be accomplished with this variety of equipment.
Pallet jacks can allow you to move pallets within small spaces and maneuver them within where using a forklift is not practical.
Stackers are used to lift loads to low levels and are either manually or electrically powered.
Lift Tables can be used to raise equipment to operational level to reduce worker fatigue and enhance safety.  They can also be used with a roller to raise and lower pallets and materials to move from one level to an adjoining level without the use of a forklift.
Tilters are utilized to load or unload loose materials into a bin or box.
Pallet Levelers allow your team to load or unload pallets while raising or lowering the pallet to optimal height. This will reduce the chance of damaging the materials. It will also reduce the risk of back injury. One accident prevented by a pallet leveler would most likely pay for the leveler.
All States Rack's lift equipment allows your employees to complete productive work safely and without costly mistakes. We have over 40 years of experience providing practical solutions to businesses just like yours.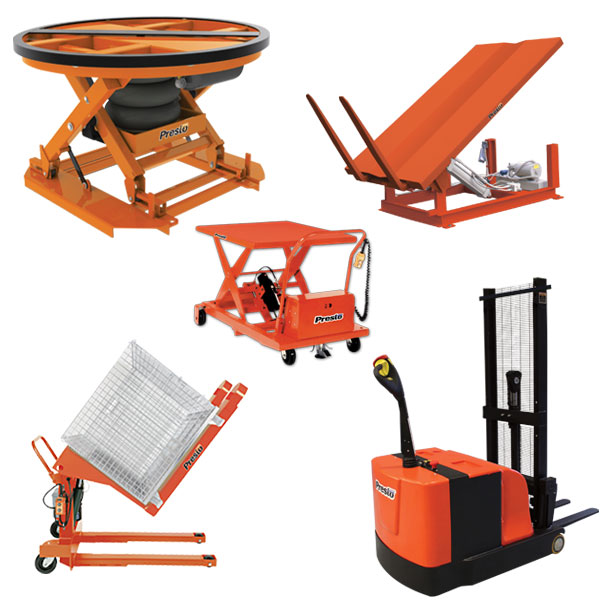 We Offer a Wide Range of Lift Equipment for Sale
Depending on the size of the operation, one or several of the lift equipment types offered by All States Rack might be needed. We're happy to provide a free quote and work with you regarding specifications and special considerations. We work only with premium-grade suppliers, ensuring you work with equipment that is safe to use. We offer:
Power Stackers
Scissor Lifts
Power Lift Stackers
Manual Lift Stackers
Pneumatic Lifts
Portable Lifts
Pallet Positioners

Floor Height Lifts & Tilts
Turntables
Container Tilters
Lift & Tilt Tables
Post Lift Tables
Work Positioners
And Much More
Our Lift Equipment Is Designed To Compliment Your Workforce
For questions, quote requests, or custom orders, email greg@allstatesrack.com.
We Look Forward to Working with You!