Skip to Content
We Offer An Assortment Of Locker Solutions For Your Project
All States Rack recognizes the importance of individual security in the workspace. Lockers serve as personal and secure equipment storage at schools, gyms, and any business requiring employee-level secure storage. Schools, Law Enforcement, Fire Departments, and Medical Facilities are some of our most common clients.
All States Rack offers lockers with various types of locks and locking systems from a user-supplied lock to more sophisticated electronic systems to track and control usage. As a result, our experience spans a multitude of use cases and product modalities.
Unlike other suppliers, we can customize your lockers to fit your space and individual needs.  Furthermore, we work from end-to-end to ensure your project has the accessories to match your functionality and desired look. Call us today, we come to you!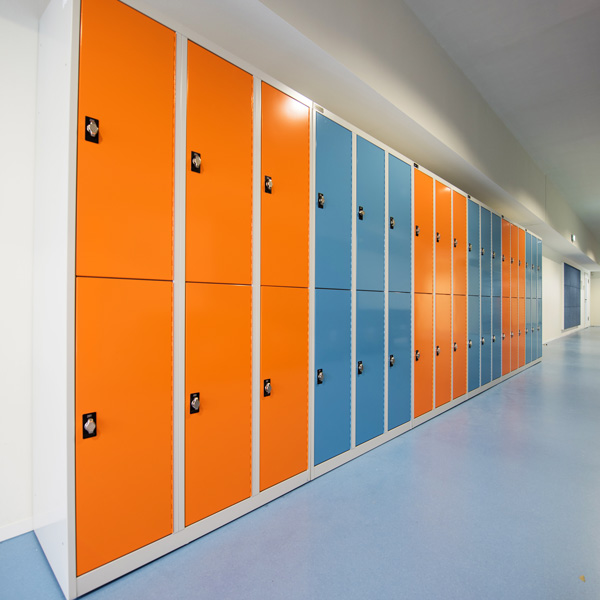 All States Rack Offers a Wide Range of Locker Varieties
All States Rack locker solutions include lockers manufactured from wood, metal and plastic. We will work with your architect to ensure that the finished product meets all specifications and results in the look you envisioned. We offer:
Z-Lockers
Z-Lockers work well where you need a lot of lockers in a small space and the locker must accommodate a lab coat or jacket. Z-lockers provide one half of the locker to hang clothing with a shelf to place your shoes or bags.
Heavy-Duty Ventilated Lockers
Ventilated lockers are ideal for environments where heat and humidity or the desire to see into the locker for security reasons are an issue. Our Lenox model of plastic lockers are ideal for wet rooms and changing rooms at pools and spas.
Maintenance-Free Quiet Lockers
Reducing the din and noise of a school hallway is ideal, and our quiet lockers are perfect for reducing the noise level. They're sturdy and come equipped with resettable combination locks.

LOCKER ACCESSORIES
Don't forget the finishing touches. Locker benches, end panels, slope/flat tops, locks and more.
INSTALLATION SERVICES
We offer installation services to ensure your complete satisfaction
Contact All States Rack for Premium Storage Solutions
In addition to lockers, All States Rack sells quality shelving. From heavy duty rack shelving to light storage systems for offices. Whether you need heavy-duty, industrial grade shelves for pallets of merchandise or stainless steel options for equipment and files, we've got it. To order a custom shelf, contact us today.
We Look Forward to Working with You!